Condo Lobby and Corridor Redesign in Williamsburg
We are currently in the design development phase of a lobby and corridor redesign project on Kent Avenue. The 14-story condominium is located on the waterfront in the trendy Williamsburg district of Brooklyn. The area has been on the rise for quite some time with countless hotels, restaurants, and residential buildings popping up all over the neighborhood. Due to this extreme growth, the competition between condos and co-ops has become quite fierce.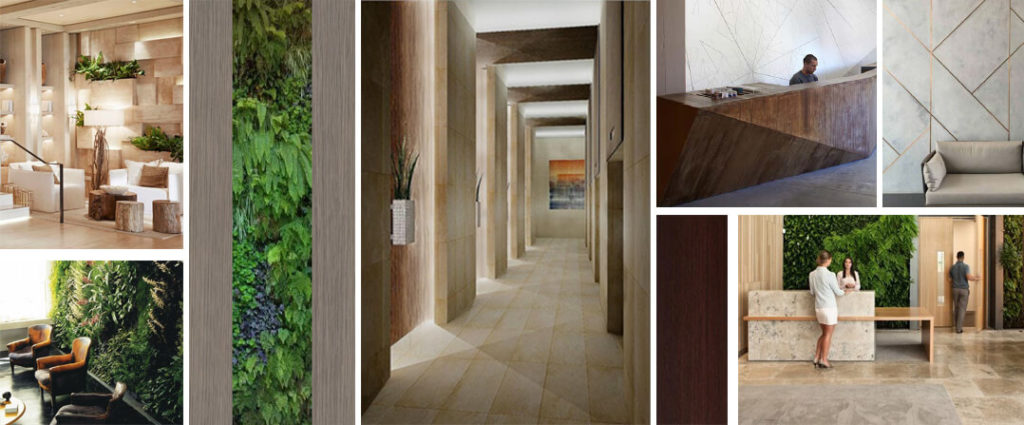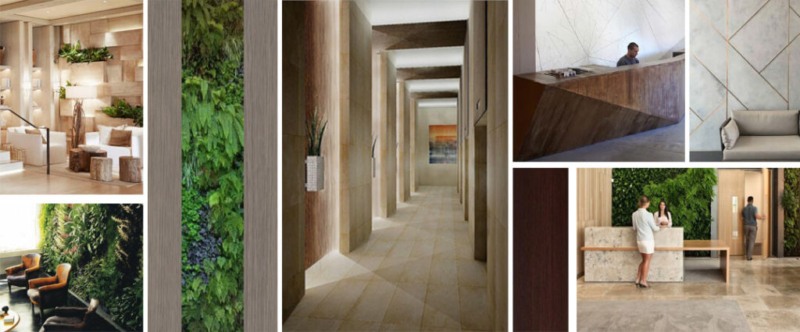 Across Williamsburg, Boards and building owners are now looking to redesign their common areas much sooner than they normally would in order to keep their building relevant as well as to attract prospective buyers. Considering the competitive nature of the area and our expertise, the Board elected to give us complete freedom to design their common spaces. Since being engaged on this project, our designers have been hard at work creating interior designs that are appealing and enticing to the hip crowd of Williamsburg.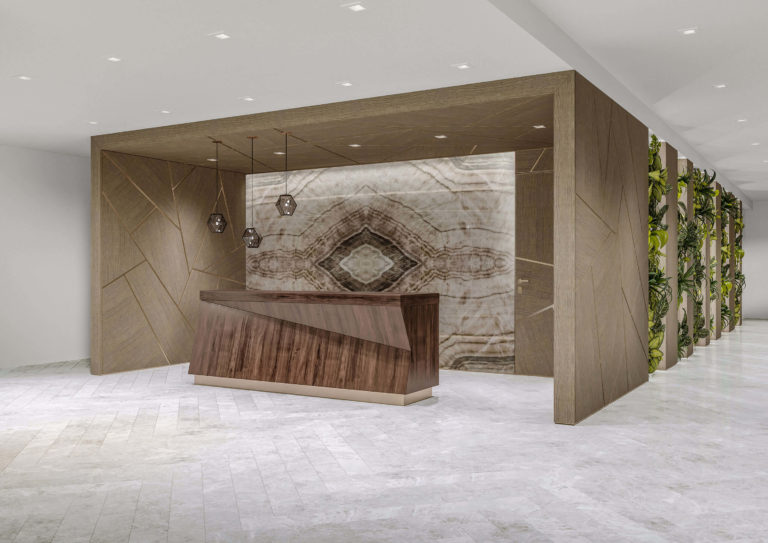 For the lobby, we opted to create a focal point using bookmatched beige onyx stone slabs. The stone will be installed behind the front desk and it will resemble a piece of abstract art. Alongside this gorgeous slab of gemstone, there will be a hidden package closet. This closet will help manage the flow and volume of packages from all the Amazon enthusiasts and online shoppers. We selected a geometric counter for the front desk and pendant lighting to delicately hang above the modern work-space. To the side of the front desk, a lush green wall will extend towards the resident lounge. The vertical garden will bring in natural elements of the outside surroundings and create a refreshing atmosphere. Lastly, we designed a custom three-dimensional pattern of carved stone for the elevator landing wall. This accent wall will be lit from above to catch all the highs and lows of the stone.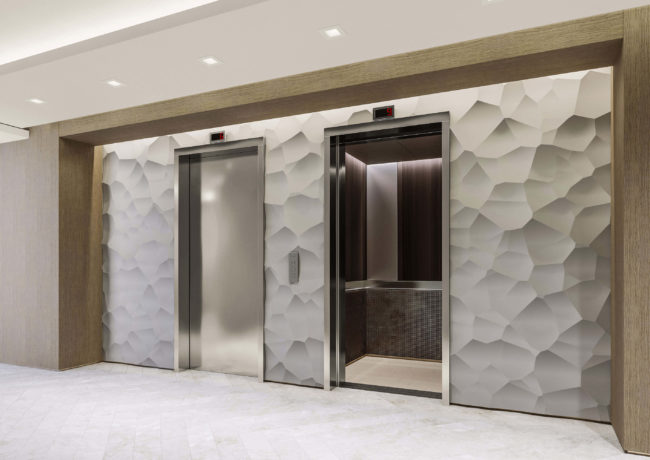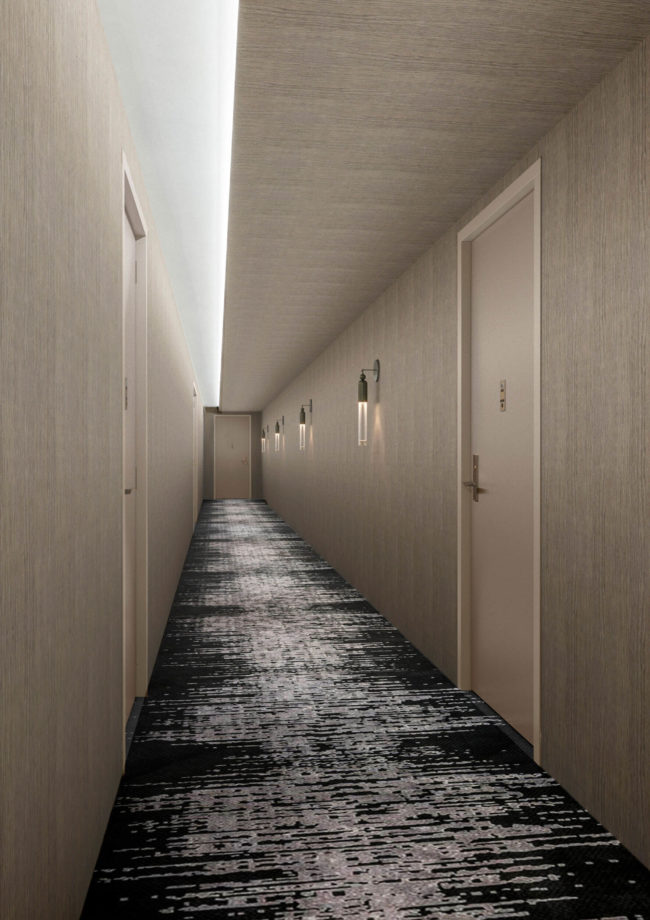 For the corridors, we custom designed a bold, graphic abstract carpet pattern. We selected a wood wallcovering, consisting of warm tones to balance out the strong carpet pattern. As for the lighting, we picked two different types: a cove for the left side and sconces for the right side. The dual asymmetrical lighting will add layers and depth to the hallways. As you will notice in the rendering, the corridor design is noticeably different than most condos and co-ops. Once completed, the corridors will feel like an upscale, chic hotel rather than a residential hallway.
For this project, our team had to really think outside the box. Our goal was to please our client, but it was also to create something totally different and unique that will motivate prospective buyers to choose this condo on Kent Avenue as their new address. We look forward to seeing this space come to life (literally).
If your condo or co-op is considering a lobby and corridor redesign, please reach out to us. We are deeply experienced in designing timeless and beautiful public spaces including lobbies, hallways, fitness centers, rooftop decks, lounges, amenity spaces, and meeting rooms.