Recently ALine has had the pleasure of working with a beautiful condominium residence in sunny Palm Beach, Florida.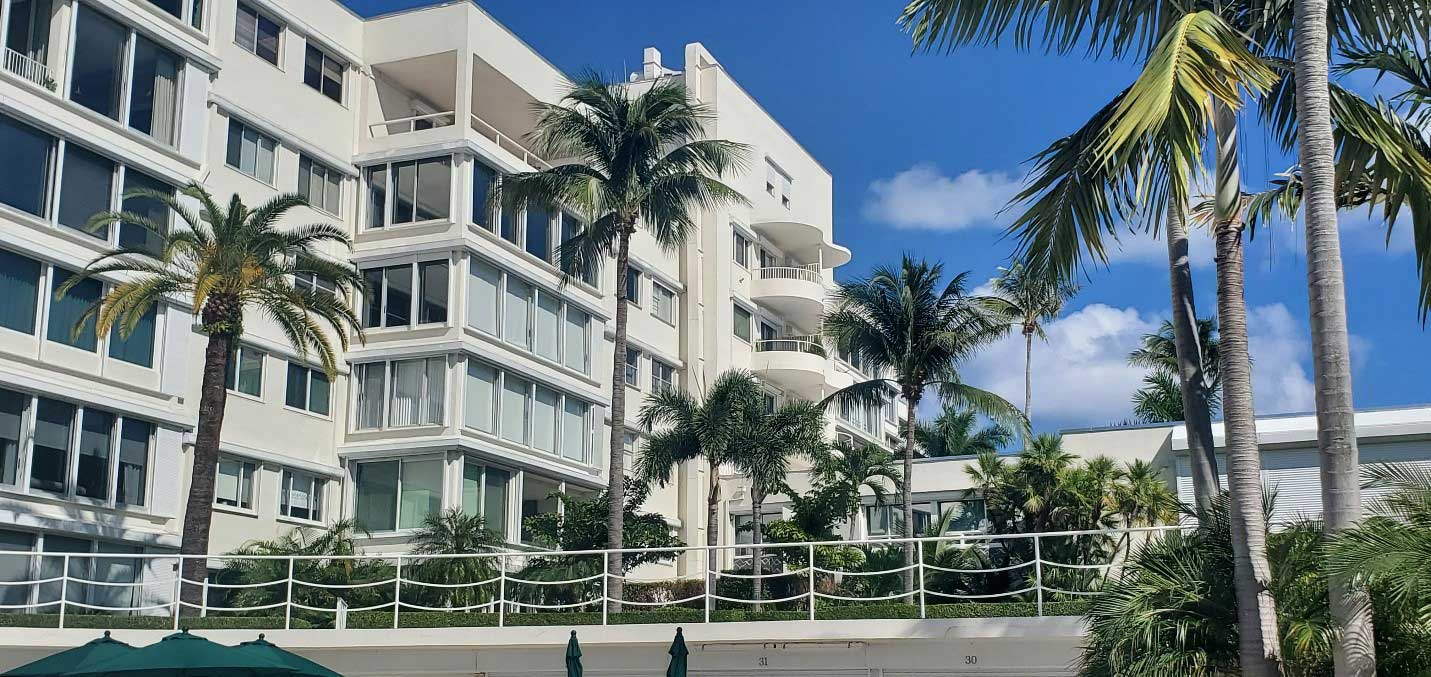 Built in 1954, the building was initially opened as a hotel, and later converted into over 200 residences, in the early 70s.
As a post-modern building created in the heyday of mid-century modern design, the original design included terrazzo flooring, muted tones, graphic shapes, and the integration of indoor and outdoor motifs.
ALine worked closely with the building owners to create a design scheme that would honor the elegant spirit of the building but endow it with a more durable and sophisticated feel.
A few different redesigns for the condominium common areas had been implemented over the years; but the building owners sought to both address the wear and tear on their building as well as the outdated feel of these remodels.
Moving beyond the easily dateable floral patterns, or the later redesign featuring a geometric motif that quickly lost its appeal to residents, the design team at ALine aimed at a new palette that will age beautifully, and that will impress residents and remain palatable for years to come.
In particular, the project has a focus on the accessibility and aesthetic functionality of transient spaces, such as hallways and corridors. A unique aspect of this project is the lengthy commute for residents between the elevator landings and individual apartments. It was important to realize a space that would be comfortable to walk through.
In the words of principal designer, Lisa Patch, "Hallways are a pathway to your home; we want to make that journey enjoyable."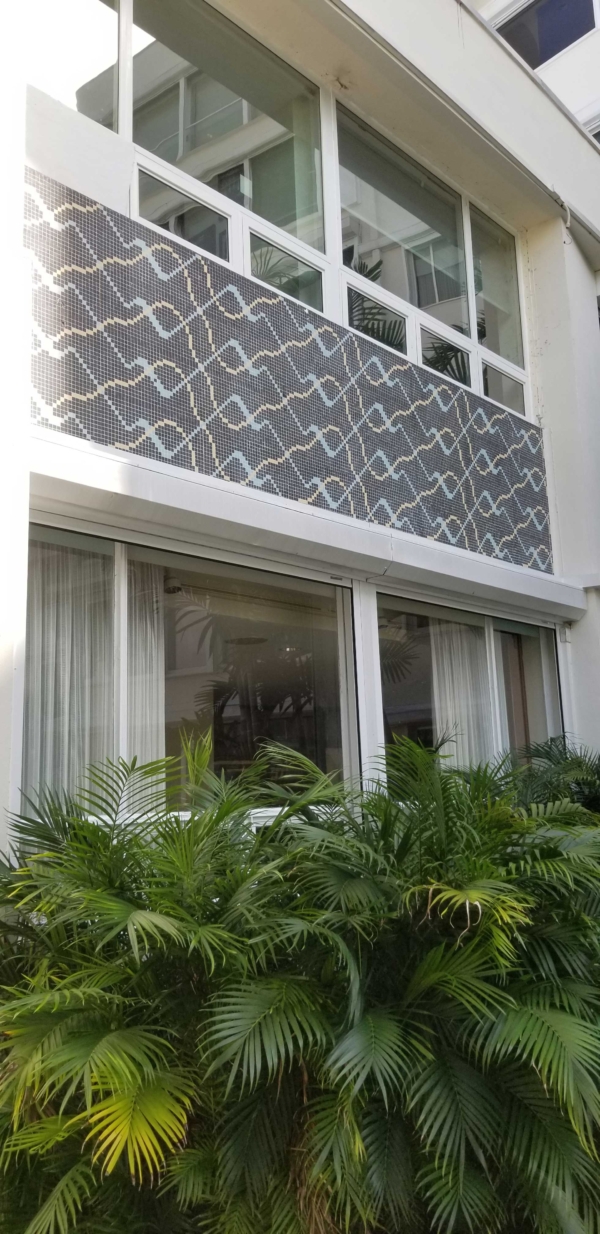 Exterior mosaic detail that inspired the new design.
The design elements ALine created sought to integrate the beautiful waterfront views of Palm Beach with its interior spaces and create a synthesis with the natural environment. Taking inspiration from an existing mosaic feature in the building the designers began to imagine a calming blue color palette, and wave-like textures and patterns within the oceanfront facility. They wanted the inhabitants of this beautiful building to be able to 'flow' through their own space. Lighting was a key element in creating the serenity of this design, so the studio worked on custom lighting features which would offer an airy, diffuse ambience, which addressed the previously dim quality of the light and created a much more desirable atmosphere.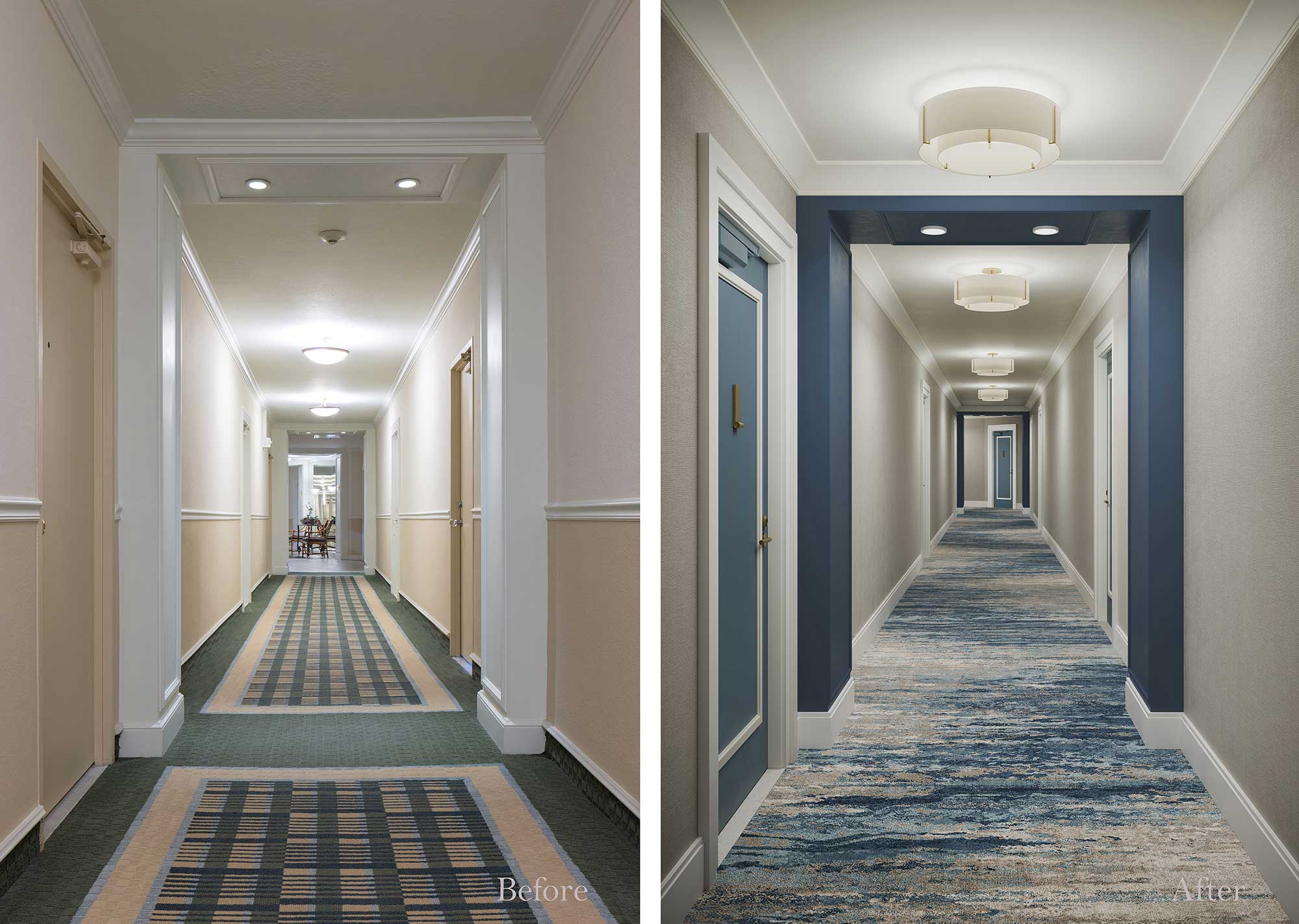 ALine is so excited to be a part of this wonderful project. From mid-century to modern-day, we want to carry forward what works, and re-envision what has not. Each project has its own unique spirit, and we love the opportunity to create these beautiful and lasting interiors that residents love and are proud to own.