Elegant Designs to Combat an Ugly Virus
Wallcovering & Fabrics for Lobbies, Hallways, or Amenity Areas
There are countless wallcovering options available on the market however we primarily recommend Type II vinyl wallcovering for public spaces because of its durability, cleanability, and customization options. All Type II wallcoverings are manufactured to meet or exceed minimum physical and performance characteristics set forth in Federal Specifications CCC-W-408. Within these legal standards, there are requirements for wash-ability and scrub-ability among many other specifications. While Type II wallcoverings must be cleanable by law, this does not imply that the product can be cleaned with bleach or other similar harsh chemicals that are known to kill COVID-19.
Because of the pandemic, many manufacturers have begun to offer bleach cleanable and antimicrobial wallcoverings along with furniture fabrics. In order for a material to be considered bleach cleanable, it cannot weaken or fade when exposed to diluted bleach. If your building is interested in material that can help combat the spread of COVID-19, we can help you navigate through the overwhelming amount of choices to find the right solution for your building. We can create any color, pattern, or texture that you can imagine using the appropriate substance that is unique to your building's specific needs and budget.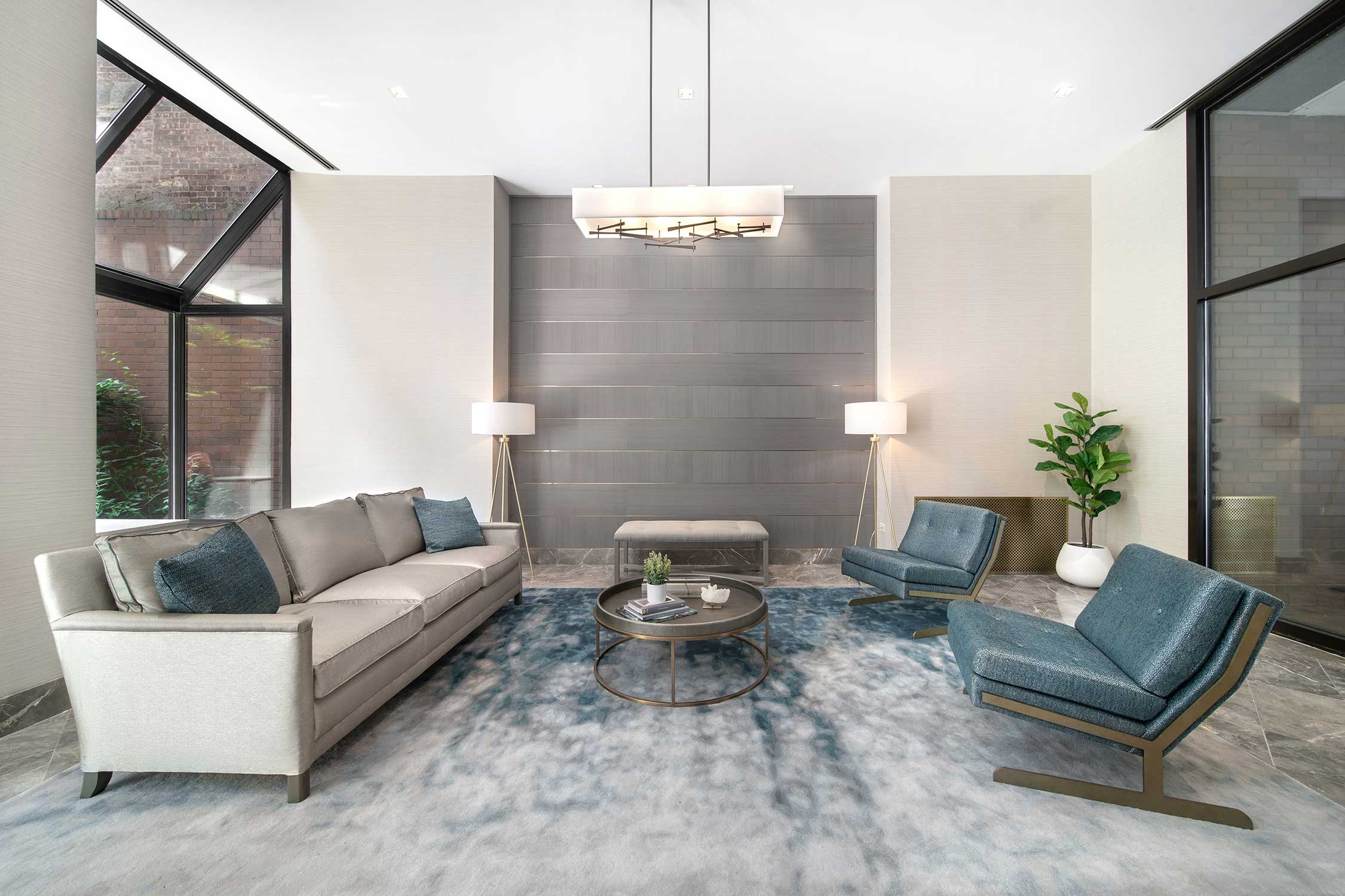 1441 Third Avenue – Bleach Cleanable Material on Tan Sofa
Elegant Hand Sanitizer Stations for Lobbies,
Hallways, or Amenity Areas
Hand sanitizer stations were fairly common before the pandemic but now they are practically everywhere. This is great for personal hygiene however the appearance of the standard station is typically not chic nor glamorous. We were thrilled when we discovered an attractive alternative to the standard "medical office" sanitizer dispenser. The upscale hand sanitizer stations are available in a variety of colors, finishes, and materials. Some can even be customized with room numbers and lighting. There are large stand-alone dispensers as well as smaller units that can sit tabletop or be mounted to the wall. We think these are a fantastic solution for high end buildings that wish to promote wellness without sacrificing design.
Hardware for Lobbies,
Hallways, or Amenity Areas
Switching out door hardware during a hallway remodel is completely optional, assuming the existing hardware is in working condition. Nevertheless, new hardware does give a lovely finishing touch to the overall hallway design. If door hardware is in the budget for your hallway project, you may want to consider a metal that is naturally antimicrobial such as copper or its alloys (brass, bronze, copper-nickel). It is also worth considering these materials for other high touch surfaces in public spaces such as handrails in lobbies and stairwells as well as cabinets pulls in kitchens/bars of amenity spaces.
Copper and its alloys are the optimum choice for hardware, if cleanliness is a high priority. This is because copper doesn't just kill pathogens, it literally destroys them by disputing key cell functions. Studies have shown that COVID-19 can only live on copper for up to 4 hours. This is significantly less compared to stainless steel, which allows the coronavirus to survive for up to 72 hours. Aluminum seems to be the next best material for hardware hygiene, since that COVID-19 can only survive on it for up to 8 hours.
Touchless Technology for Lobbies,
Hallways, or Amenity Areas
It is well known that door knobs/handles and elevator buttons are some of the most contaminated surfaces in public spaces. One way to keep the germs at bay is for building staff to regularly clean these surfaces. Alternately, buildings can implement automatic entry doors and touch free elevator motion sensors. There is even an option to install elevator call buttons that are foot-activated. In public hallways, touchless lock systems can be installed as another measure of reducing germs on high touch surfaces. Not to mention, the system is also more convenient than a standard lock and key.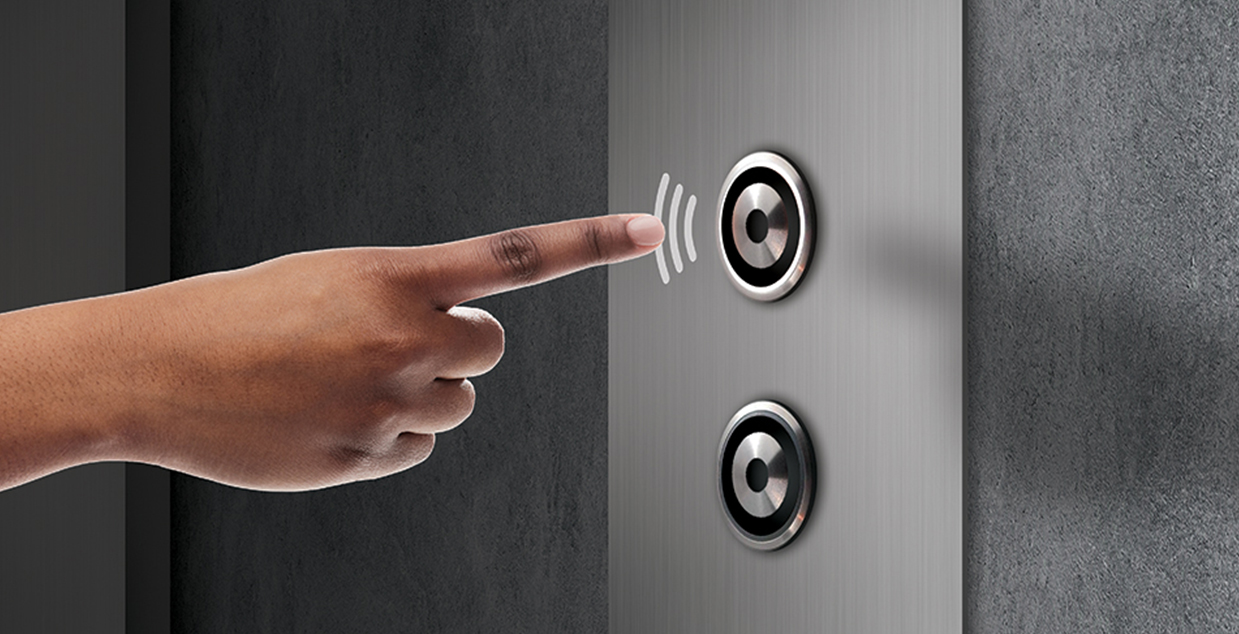 Touch Free Elevator Motion Sensor Buttons
Touchless lighting systems are a great option for gyms, lounges, Board conference rooms, game rooms, etc. Since amenity areas are not used continuously, there is no need for lights to stay on all the time. These lighting systems not only save money, but also eliminate the need to physically touch switch plates.
Touchless faucets could also be installed in the kitchens or bathrooms of amenity spaces. Faucet handles are another hotbed for germs. According to studies, there can sometimes be up to 229,000 germs per square inch on frequently used faucet handles. Aside from germ prevention, touchless faucets are environmentally friendly and easier to maintain.